My printable Gag Prescription Label templates make it easy to give a fun homemade gift to anyone who appreciates a practical joke.
Because you edit the text yourself at home, you can design custom Gag Prescription Labels perfect for Birthday gifts, Teacher gifts, Mother's Day gifts, Old Age gifts, Christmas gifts, Office gifts, Secret Santa gifts – or gifts for any occasion!
Designed to look like a real RX Prescription script, every Gag Prescription Label will look like it's come from your local chemist or pharmacy!
Instant Downloads
Each Gag Prescription Label template is available as an Instant Download. This means there is no waiting – you can just purchase, download, edit and print right away.
Editable Text
All the hard work has already been done for you. You simply open them in Adobe Reader at home, and type over my sample text with your own.
You personalize each Gag Prescription Label with a Pharmacy Name & Address, Patient Name, Pill Name & Description, Side Effects, Prescribed By, Date etc – you can even edit the barcode.
You can also edit the sample name and description that is already typed in into each label and change the wording to suit your recipient (or just leave my sample wording there!).
Easy Printing
Each template is formatted for easy printing at home on 8.5×11 inch white regular computer paper (however you can also print on A4 sized paper if you are in Australia, UK or Asia!). Want to print as stickers? Use full page (uncut) sticker paper.
If your home printer is not up to the task, take them to your local copy shop (such as Staples, Office Max, Fedex, Officeworks etc) for printing instead.
Chill Pills
My most popular Gag Prescription Label theme!
These chill pill labels come already customized for Students, Teachers, Mom, Christmas and a general one for friends or office coworkers who have a lot of obnoxious or annoying people in their lives!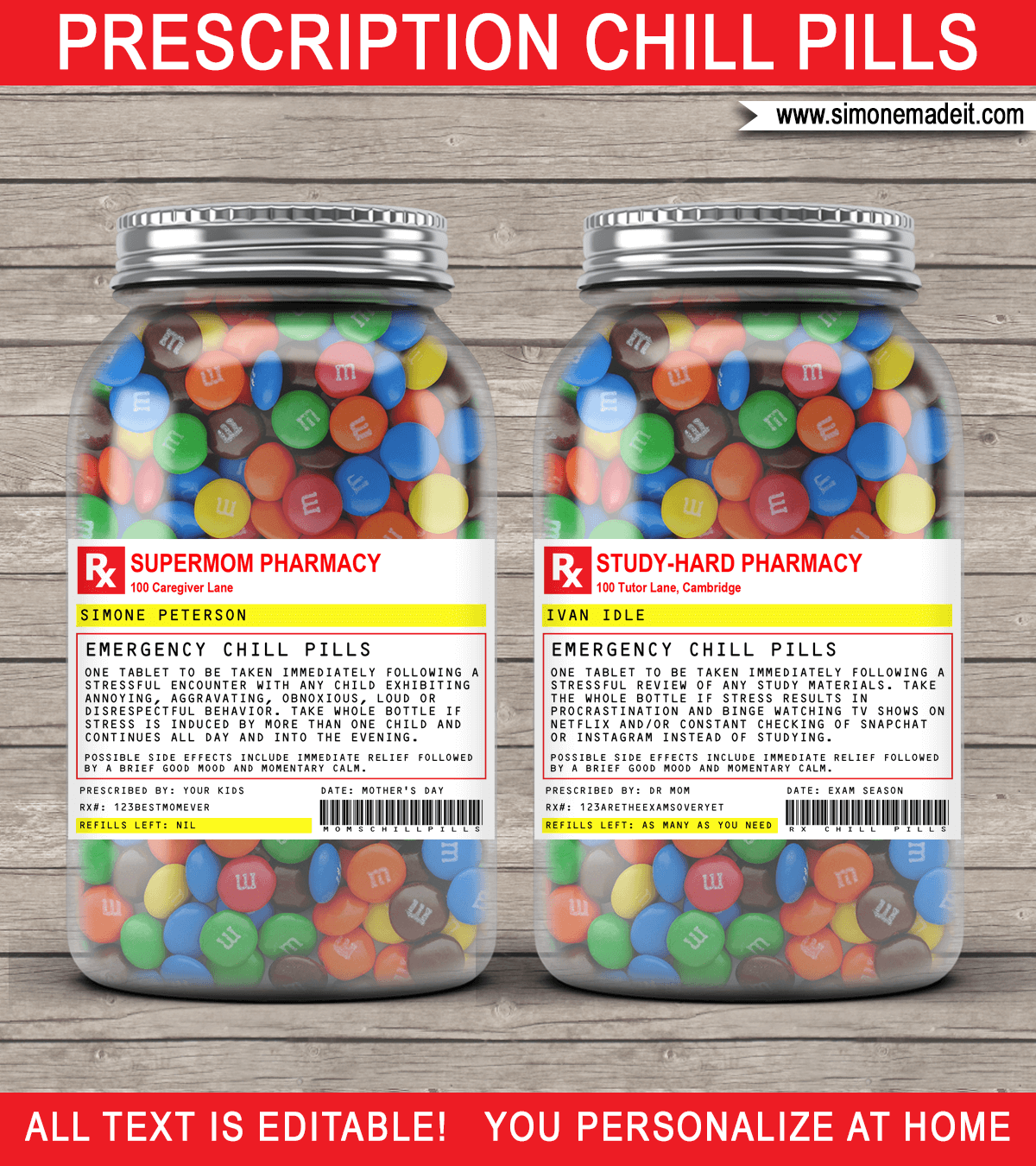 Of course, as the text is editable, you can further personalize the pill name, directions for use or side effects to suit the person you will be giving them too.
Just place on a medium to large mason or candy jar filled with jelly beans, M&Ms or other candy for an inexpensive gift.
Old Age Pills
These Old Age Pills prescription labels make a great gag gift for anyone their Milestone birthday (40th, 50th, 60th, 70th etc) just to remind them they are now over the hill.
These come in 2 sizes: Smaller for 8 dram vials and Larger for 13 dram vials
Old age themed pill names and directions for use are already typed in – 8 different ones for the larger labels and 18 for the smaller ones (which includes Over the Hill Pills, Anti-Sag Pills, Fountain of Youth Pills, Age Blockers, Forever Young Pills and loads more).
You can also edit or completely change these descriptions to suit the occasion or recipient.
These old age pills labels are designed to fit authentic orange plastic vials – just like you get from the pharmacy. The smaller labels fit vials from approx 1 inch diameter (like these ones on Amazon). The larger labels have caution text down the bottom & a barcode on the side and fit vials from approx 1.22 inches diameter (see these ones also from Amazon) and larger.
Prescription Wine
Emergency Wine is often needed in my house! Transform a cheap bottle of wine into a special gift just by using one of these Prescription Wine labels.
This is one medicine that will they will want to take!
Prescription Vodka and Gin
For those who like something a little stronger, give the gift of Prescription Vodka or Gin.
Get creative with all the editable text fields and you can have your Prescription Vodka or Gin being prescribed for anything you like.
Prescription Chocolate
Or prescribe chocolate to anyone needing to de-stress!
These Emergency Chocolate labels fit 1.55oz Hersheys Candy Bars – just wrap them around the existing wrapper. They make a great inexpensive gag gift for a chocoholic.
The side effects are shown on the back. Edit these (and the directions for use on the front) to further personalize them for your recipient.
See all my printable Gag Prescription Label templates.
Please note you can only change the text on these templates. Templates cannot be edited for color, size, graphics or backgrounds and will only work in Adobe Reader on your computer or laptop (not in any other program or on a mobile device).